One of the most difficult lottery to win is Italian lottery SuperEnaLotto.
The chances of winning main prize in Italian lottery SuperEnaLotto are 1 in 622 million. This is one of the hardest lottery to win in the world. It is more than twice as difficult to win jackpot in SuperEnaLotto than in American lottery Powerball! As we all know to win main prize in Powerball is already very difficult with the odds of winning 1 in 292 million.
It is is even very difficult to win second tier prize. The odds of winning second tier prize in SuperEnaLotto are 1 in 103 million. That is crazy! It is more difficult to win second prize in SuperEnaLotto than to win main prize in European lottery EuroJackpot.
And the prizes on offer are not even so big, when comparing with prizes offered by other big lotteries. But those other lotteries actually offer much better chances of winning those prizes.
It is very surprising that people even consider playing in Italian lottery SuperEnaLotto, which offers such a remote chances of winning.
It is so hard to win in SuperEnaLotto, that usually for many months there are no winners of the main prize. This already happened many times. In 2010 there were no jackpot winner for 10 months! Despite the fact that Italian lottery SuperEnaLotto is played more frequently than other lotteries. SuperEnaLotto take place three times per week. After more than 100 rollovers nobody won the main prize in SuperEnaLotto! Can you believe that? It is no surprise than after such a long time main prizes finally rising above 100 million euros. However nobody wins for many months.
Even for the second prize there are no winners in weeks. If you do not believe just check statistics from historical SuperEnaLotto games.
Think twice before splashing thoughtlessly money on Italian lottery SuperEnaLotto coupons.
However if you really want to have a go at SuperEnaLotto, here is the link to participate in the hardest lottery to win in the world. Click here to buy coupons for Italian lottery SuperEnaLotto or banner below: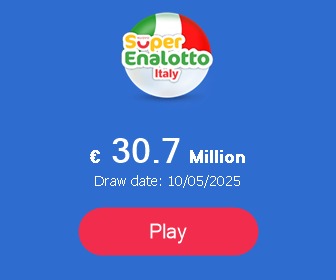 There are other lotteries with higher prizes and much better odds of winning those prizes than Italian lottery SuperEnaLotto. The cost of buying coupons for other lotteries are not much higher. Click here to check out ticket price for other lotteries or banner below:
---
---